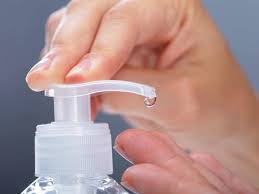 Vintage Taxi rides are COVID compliant . We always wear our mask and provide our passengers with a face mask, if they don't have their own. We disinfect our vehicles between customers. We constantly bring in outside air to the cabin. We furnish safe alcohol wet wipes, We also prefer you set in the back seat!
The entire world is now sensitized to sanitation. COVID-19 has caused a ream of new regulations requiring industries — restaurants, food processing operations, hotels, building contractors, airlines, health care providers, dentists, gyms, massage therapists, rental car agencies, supermarkets, assembly lines, etc. — to have sanitizer available,
Of course, Sanitizers are products we use to kill or neutralize harmful bacteria, viruses, and (in some cases) fungi from our skin and surfaces. By definition they are toxic to these microbes. Our goal is to use sanitizers to stay healthy and safe. But could it be that the cure is worse than the disease? It doesn't have to be so, but most sanitizers on the market have harmful chemicals in them.

Although the gold standard of sanitation IS………ETHYL ALCOHOL, there are literally hundreds of substances that are technically "alcohols." The run on ethyl alcohol (causing shortages plus increased cost) has resulted in some sanitizer companies switching to other alcohols without much regard to safety. Each of these alcohols are dramatically different in their effects on the body.
Methyl Alcohol (Methanol)
Typically this is produced from petroleum gas or, to a lesser degree, coal. It is so poisonous that the consumption of one ounce (30ml) is enough to cause death! With the shortage of ethyl alcohol, some unscrupulous companies have started substituting methanol for it. Methanol is notorious for skin absorption, quickly causing skin irritation and defatting of the skin. Moisturizers added to sanitizer make the absorption of methanol even more rapid.
Methanol, when absorbed, becomes formaldehyde in the liver. Yes, that does mean you literally pickle your liver. It also can cause permanent blindness, heart and lung collapse, coma, and death. It is also cumulative your body accumulates more and more methanol with each application until you reach a catastrophic dose. Multiple deaths occurred in June 2020 in Mexico where methanol was used in a sanitizer. The FDA on June 21, 2020, called out nine U.S. sanitizers containing methanol to be taken off the market.They recommend that anyone who has applied those sanitizers to their skin seek medical help immediately, even if there are no obvious symptoms.
Isopropyl Alcohol
Isopropyl alcohol is the common disinfectant you find in U.S. drugstores. It is a legal disinfectant. That doesn't mean it should be a daily sanitizer. Isopropyl is synthesized from petroleum, and is quite toxic. It's okay to use on your skin — but only when you get the occasional cut and need to disinfect it. It has never been approved for repeated daily use. Unlike ethyl alcohol, it is extremely toxic. If you, as an adult, drink as little as 2/3 of an ounce (20ml), you risk injury and possibly death. It will cause kidney damage. It can cause coma and death due to lung failure. It is a neurotoxin. Used repeatedly, it dissolves healthy fats that are part of the skin — think big wrinkles. It's very irritating or injurious to eyes. Get help immediately if rubbed into eyes!
Tert-Butyl Alcohol
Another toxic substitute for scarce ethyl alcohol, tert-butyl alcohol is another petrochemical. It is also known as butanol. It is easily absorbed through the skin, and has powerful neurotoxic effects, causing loss of hearing, damage to liver and kidneys, permanently blurred vision, nausea, and dizziness. It causes tumors and is assumed to be carcinogenic. It causes skin irritation and is very dangerous to get into your eyes. This chemical is increasingly being used, due to its low cost.
The Food and Drug Administration has placed over 100 hand sanitizers on its list of products to avoid, mostly because they contain methanol or they do not contain a sufficient quantity of alcohol to be effective.
Blumen Clear Advanced Hand Sanitizer with 70% Alcohol
Blumen Advanced Instant Hand Sanitizer Clear Ethyl Alcohol 70%
BLUMEN Advanced Instant Hand Sanitizer Clear
KLAR AND DANVER Instant Hand Sanitizer
MODESA Instant Hand Sanitizer Moisturizers and Vitamin E
BLUMEN Advanced Hand Sanitizer
BLUMEN Advanced Hand Sanitizer Aloe
BLUMEN Advanced Instant Hand Sanitizer Lavender
BLUMEN Clear Advanced Hand Sanitizer
BLUMEN Clear LEAR Advanced Hand Sanitizer
The Honeykeeper Hand Sanitizer
BLUMEN Advanced Hand Sanitizer Clear
BLUMEN Clear Advanced Instant Hand Sanitizer
BLUMEN Clear Advanced Instant Hand Sanitizer Aloe
BLUMEN Clear Advanced Instant Hand Sanitizer Lavender
BLUMEN Aloe Advanced Hand Sanitizer, with 70 Alcohol
BLUMEN Aloe Advanced Hand Sanitizer, with 70 Alcohol
Blumen Advanced Hand Sanitizer Lavender, with 70% alcohol
Blumen Advanced Hand Sanitizer Aloe, with 70% alcohol
Blumen Antibacterial Fresh Citrus Hand Sanitizer
Blumen Hand Sanitizer Fresh Citrus
KLAR and DANVER Instant Hand Sanitizer
Hello Kitty Hand Sanitizer
Assured Instant Hand Sanitizer (Vitamin E and Aloe)
Assured Instant Hand Sanitizer (Aloe and Moisturizers)
Assured Instant Hand Sanitizer Vitamin E and Aloe
Assured Instant Hand Sanitizer Aloe and Moisturizers
BLUMEN Instant Hand Sanitizer Fragrance Free
BLUMEN Instant Hand Sanitizer Aloe Vera
Assured Aloe
bio aaa Advance Hand Sanitizer
LumiSkin Advance Hand Sanitizer 4 oz
LumiSkin Advance Hand Sanitizer 16 oz
QualitaMed Hand Sanitizer
NEXT Hand Sanitizer
Clear Advanced Hand Sanitizer with 70% Alcohol extra soft with glycerin and aloe
NuuxSan Instant Antibacterial Hand Sanitizer
NuuxSan Instant Hand Sanitizer
Assured Instant Antiseptic Hand Sanitizer with Aloe and Moisturizers
Assured Instant Antiseptic Hand Sanitizer with Vitamin E and Aloe
Modesa Instant Antiseptic Hand Sanitizer with Moisturizers and Aloe Vera
Modesa Instant Antiseptic Hand Sanitizer with Moisturizers and Vitamin E
Herbacil Antiseptic Hand Sanitizer 70% Alcohol
Herbacil Antiseptic Hand Sanitizer 70% Alcohol
Herbacil Antiseptic Hand Sanitizer 70% Alcohol
Earths Amenities Instant Unscented Hand Sanitizer with Aloe Vera Advanced
Hand Sanitizer Agavespa Skincare
Vidanos Easy Cleaning Rentals Hand Sanitizer Agavespa Skincare
All-Clean Hand Sanitizer
Esk Biochem Hand Sanitizer
Lavar 70 Gel Hand Sanitizer
The Good Gel Antibacterial Gel Hand Sanitizer
CleanCare NoGerm Advanced Hand Sanitizer 80% Alcohol
CleanCare NoGerm Advanced Hand Sanitizer 75% Alcohol
Saniderm Advanced Hand Sanitizer
Hand sanitizer Gel Unscented 70% Alcohol
Medicare Alcohol Antiseptic Topical Solution
GelBact Hand Sanitizer
Hand Sanitizer
TriCleanz
Sayab Antisepctic Hand Sanitizer 100
Jaloma Antiseptic Hand Sanitizer Ethyl Alcohol 62% with Vitamin E
Leiper's Fork Distillery Bulk Disinfectant per 5 gallon and Leiper's Fork Distillery 16 oz bottle
Andy's Best
Andy's
NeoNatural
Plus Advanced
Optimus Instant Hand Sanitizer
Optimus Lubricants Instant Hand Sanitizer
Optimus Instant Hand Sanitizer
Selecto Hand Sanitizer
Shine and Clean Hand Sanitizer
Hand Sanitizer Disinfectant Gel 70% Ethyl Alcohol
Hand Sanitizer Disinfectant Gel 70% Ethyl Alcohol Rinse Free Hand Rub
Mystic Shield Protection hand sanitizer
Born Basic. Anti-Bac Hand Sanitizer 70% alcohol
Born Basic. Anti-Bac Hand Sanitizer 65% Alcohol
Scent Theory — Keep It Clean — Pure Clean Anti-bacterial Hand Sanitizer
Cavalry
ENLIVEN Hand Sanitizing Gel
Lux Eoi Hand Sanitizing Gel
Scent Theory — Keep It Clean — Pure Clean Anti-bacterial Hand Sanitizer
Bersih Hand Sanitizer Gel Fragrance Free
Bersih Antiseptic Alcohol 70% Topical Solution hand sanitizer
Purity Advanced Hand Sanitizer
Hand Sanitizer Gel Alcohol 70%
TriCleanz Tritanium Labs Hand Sanitizer
Britz Hand Sanitizer Ethyl Alcohol 70%
Parabola Hand Sanitizer
Urbane Bath and Body Hand Sanitizer
Cleaner Hand Sanitizer Rinse Free 70%
Handzer Hand Sanitizer Rinse Free
Kleanz Antibacterial Hand Sanitizer Advanced
Be Safe Hand Sanitizer
Wave Hand Sanitizer Gel
DAESI Hand Sanitizer