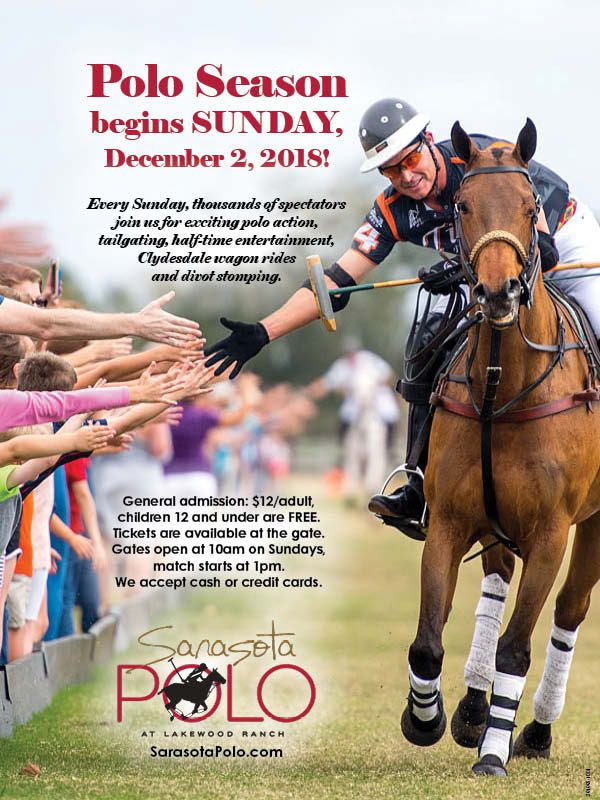 2019 SCHEDULE 
    https://www.sarasotapolo.com/watch/
I often chat with my Vintage Taxi customers about how to spend a wonderful afternoon here in our little piece of Paradise.When they take me up on a trip to the Polo grounds, I invariably get very positive reports.
Since 1991, the Sarasota Polo Club at Lakewood Ranch has been providing exhilarating polo matches at one of the most beautiful settings in Sarasota, Florida. Every Sunday afternoon, we welcome the public to bring out their picnic baskets and enjoy the thrill of the "fastest game on four feet." With Clydesdale wagon rides, exciting action, tailgating, half-time entertainment, divot stomping and plenty of fresh air, Sunday polo is the perfect place for a family outing; dogs are even welcome on a leash.  
IN THE HEART OF FLORIDA'S GULF COAST
With 130 acres of perfectly manicured grounds, the Sarasota Polo Club boasts seven world-class polo fields and a regulation size arena. Polo leagues and tournaments ranging from 2 to 12 goal are played throughout the winter months. Located in the heart of Florida's Gulf Coast, the Sarasota Polo Club offers easy access to two international airports and proximity to top-rated white beaches and golf courses.
FUN, competitive polo all winter long
Stabling on site
Beginner through 12 goal- something for everyone
Country club living
Experience Sarasota Polo – the best kept secret on the West Coast of Florida!