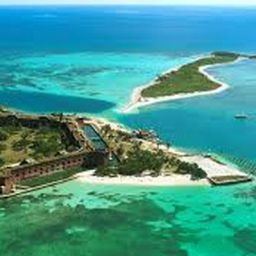 What Red Tide? Beachgoers enjoy beautiful conditions at Fort De Soto
Not all of our beautiful beaches have been invaded by Red Tide   "Come on Down"…. Vintage Taxi will take you to the right spots & Meeting you at the Airport of your choice.
Signs of the Red Tide algae bloom that had drawn headlines in recent days were nonexistent Saturday morning at Pinellas' Fort De Soto Park.
Despite reports of high concentrations of the toxic algae near Bunce's Pass, which runs between Fort De Soto and Shell Key Preserve, vacationers said they'd seen no signs of its effects on the park's beaches: no dead fish and no rank odor.
Tim Lauer, who works in project development at a fishing company in Tampa and frequently fishes around Tampa Bay, said the wind has blown much of the water containing the toxic algae offshore.
"It hasn't been killing bait out here," Lauer said Saturday from the Fort De Soto boat ramp. "As of right now, it looks pretty good."
Red Tide's toxic toll — your questions answered
The toxic bloom, which produces chemicals that can harm marine animals and humans alike, has drawn national headlines in recent weeks as dozens of dead marine mammals have washed ashore at Florida beaches — including Anna Maria Island in Manatee County, just south of Fort De Soto.
But there haven't been reports of Red Tide near Pinellas until Friday night.
Saturday morning, it appeared Fort De Soto, one of Pinellas County's signature parks, was unaffected by the bloom. Vacationers took in the bright sun of Labor Day weekend without a care for Red Tide.
At the park's north beach, Ryan Williams, of Orlando, said he had heard of the Red Tide issue but hadn't seen any signs of it since he arrived with his family on Friday.
And at the Bay Pier, dog owners walked around with their pets, families held cookouts and tiny fish swam around the shade of the pier.