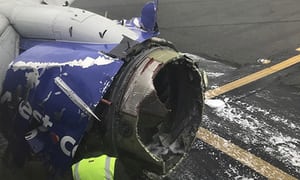 Southwest Whats going on with your Engines?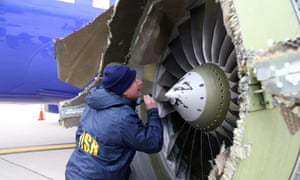 GOOD GRIEF! My "favorite airline" has Troubles….@#$%&!
The investigation into a deadly engine failure on a Southwest jet is focusing on whether wear and tear caused a fan blade to snap off, triggering a catastrophic chain of events that killed a passenger and broke a string of eight years without a fatal accident involving a U.S. airliner.  https://www.popularmechanics.com/flight/airlines/a20054264/southwest-engine-inspection/
Southwest is the busiest airline at TPA Tampa International.  . . ..LITTLE WONDER!
1. The Crew Actually Seems to Enjoy Your Company
More often than not, we board planes without much excitement — we're lucky to even get a "welcome aboard" from the crew. Southwest Airlines, on the other hand, has consistently been defying the odds, with its consistently friendly crew and positive passenger experiences.
2. It's a Choose-Your-Own-Seat Adventure Every Time
One of the most unique aspects of the Southwest experience is its boarding process — checking in 24-hours ahead so you have the best chance of snagging the perfect seat is crucial. Aside from the emergency row or bulkhead rows, there really are no preferred seats — and there is no first-class cabin — just row upon row of the carrier's signature blue leather economy seats. Check in, starting 24-hours prior to departure
3. Bags Fly Free — Even in Today's Industry
Southwest is the last airline that offers not one, but two free checked bags per passenger, an obvious dig at all the other airlines that currently charge for checking a bag. Although most airlines offer co-branded credit cards that offer free bags, some, such as Spirit Airlines will try to charge you as much as $100 per bag, depending on whether you pay for it online (from $35), at the check-in desk (from $55) or at the gate (from $100).
4. You'll Never be Charged for a Change of Plans
In recent years, airlines have made a killing from charging cancellation fees, but not Southwest. Even if you book a flight in the lowest-tier fare-class, "Wanna Get Away," you'll never pay extra to make a last-minute change or if you need to cancel your trip altogether. Worst-case scenario, just call up the airline and let the agent know you'd like to alter your reservation — in my experience, the entire process usually takes about five minutes.
5. You Can Watch Live and On-Demand TV — For Free
Southwest has always taken pride in consistently offering free live and on-demand TV on its flights. Although no Southwest aircraft are equipped with in-flight entertainment units — not even its newer 737 MAX planes — you can quickly and easily connect to Wi-Fi and browse through hundreds of entertainment options from your own devices.
HOWEVER, serious ENGINE PROBLEMS means Southwest has to get ahead of this!
US and European airline regulators have ordered emergency inspections within 20 days of nearly 700 aircraft engines similar to the one involved in a fatal Southwest Airlines blowout earlier this week, citing risks of a similar mishap.
The directives from the US Federal Aviation Administration and the European Aviation Safety Agency indicated rising concerns since a similar failure in 2016 of the same type of engine – a CFM56-7B engine, made by CFM International.
The FAA said the engine on Southwest Airlines flight 1380 exploded on Tuesday when a fan blade broke off. The blast shattered a window, killing one woman, in the first US passenger airline fatality since 2009.
Despite the occasional heavy turbulence I feel safe while flying, though I know plenty of people feel less at ease in the air. While you can't always reason with your anxieties, there's a case to be made for why flying is one of the safest things you can do today.
Since September 11, 2001, there have been four commercial aircraft accidents in the United States that have resulted in fatalities.
That means that in (9) NINE of the past 13 years, the odds of being involved in an accident that included any fatalities have been zero.
Some perspective
Other common causes of death each year that vastly exceed aviation include:
Even some pretty unusual and remote dangers pose a greater risk than domestic air travel, including:
COMPARE AIRLINE SAFETY RATINGS
www.airlineratings.com/safety-ratings-tool/
Of all the Florida Airport pick ups we do at Vintage Taxi, providing airport transportation,  Allegiant  has the worst record of cancellations and not keeping a on time  schedule. All I can say is their cheap if you don't have any luggage. HOWEVER…. All Flights Are Direct and they fly to a lot of "Secondary Airports". Now you can experience this service at SRQ!
Allegiant Air's safety record remains troubling, and the Federal Aviation Administration's reluctance to talk about it is no more encouraging. Those are the key takeaways from a 60 Minutes report on the low-cost carrier's high rate of mid-flight breakdowns, which built on earlier Tampa Bay Times reporting that found Allegiant had far more incidents than other major airlines. While Allegiant has made improvements by beginning to modernize its fleet, the flying public in Tampa Bay still has plenty of reasons to be concerned.
l/Allegiant Airlines has recently experienced a number of incidents. A recent survey of Allegiant pilots (PDF) indicates some serious concerns about pilot fatigue and overscheduling, and the president of the pilot's union reports that "Almost half of the pilots said they will not allow their own families to fly on the aircraft." So, Allegiant is an airline where — as they say — "past performance is not necessarily a predictor of future results."