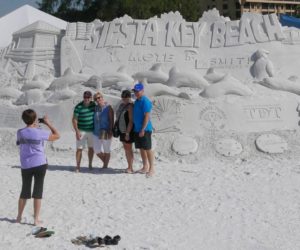 Again this November twenty-four of the premier master sand sculptors from all over the world will be competing for 1st place on the #1 beach – USA. Every year when driving folks from the Airports to our place in the sun, my Vintage Taxi customers get an ear full about this fabulous event as it is one of my personal favorites.
In only 24 sculpting hours, (spanning the four day event), the master sculptors create sand masterpieces, some over ten feet tall, and transform the always beautiful Siesta Beach into an outdoor art gallery.
New this year – the festival will be open Friday and Saturday night until 9 pm with live music by Reverend Barry & Funktastic Soul Friday night and One Night Rodeo Saturday night. Drinks will be flowing at the party tent and the sculptures will be lit through a fabulous light display.
You can purchase tickets at the beach
1 day admission purchased at the event $10 Adult $5 Child
Discount tickets and multi day passes are only available online:    siestakeycrystalclassic.com
2017 First Place Winner