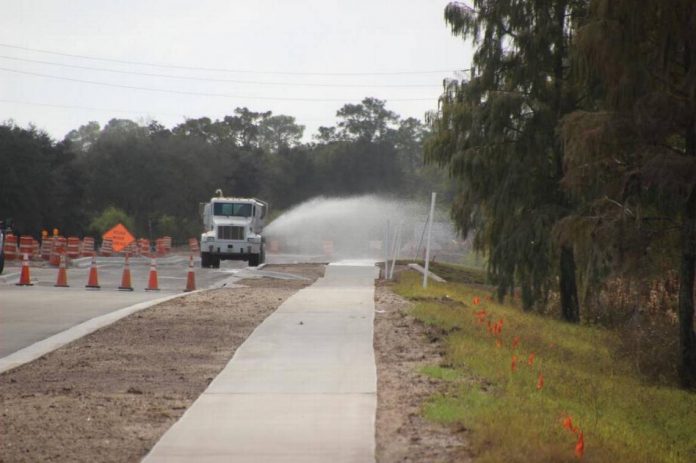 This road construction project should  drastically cut down on congestion on I-75.          It's set to open before snowbird season.
Drivers will be able to take Lorraine Road north and south between University Parkway and Fruitville Road. The extension opens on September 6.
Several of my Airport Transportation customers, that are bike riders, have been reporting on the progress of this much needed construction project.
The Lakewood Ranch Waterside project will be bringing 5,100 new homes to the south side of University Parkway. That's half  as many households currently living in LWR , now about 10,000.
The first piece of that project is this extending Lorraine Road to improve traffic flow.
Sales are expected to begin in 2017. The first builders are Pulte with 246 homes  and Homes by Towne with 571 homes planned.
Also planned are 390,000 square feet of commercial and office space, including a 140,000-square-foot village center.
Construction of the village center, on the banks of the largest of the seven lakes, is expected to begin in January 2018.
Residents will be able to take water taxies powered by quiet electric motors to visit the village center, which will house shops, restaurants, apartments and more. No watercraft with internal combustion engines will be allowed on the lakes.
Shoreview at Lakewood Ranch Waterside
https://www.pulte.com/homes/florida/sarasota/sarasota/shoreview-at-lakewood-ranch-waterside-209716
LakeHouse Cove at Waterside
http://www.homesbytowne.com/states/florida/waterside.html