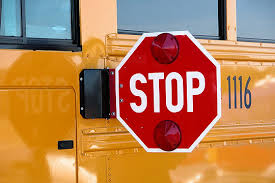 As a Airport Transportation Provider, Vintage Taxi & Tours, I can tell you that this is a good question to ask especially now at the beginning of the school year in Manatee County.
Here is the information on rules regarding stopping for school buses:
You should always stop for a school bus with its lights flashing;                                       EXCEPT if you are driving on a <divided highway in the opposite direction of a bus> and there is at least five feet of unpaved space, a raised median, or a physical barrier (concrete abutment) separating the roadway on which you are travelling from the roadway where a bus stopped. Only then you can continue to drive at a legal speed, but should still drive with an increased awareness that children might be around.
In all other situations, you must stop when you see a school bus that has its stop lights blinking and stop signs showing, regardless of whether you are behind a bus or facing a bus, driving in the opposite direction.
Don't let your tinsel get in a tangle. Good things come to those who plan ahead!   
FOR SAFE Airport Transportation 24/7 By Appointment
       Book Ground Transportation TODAY ! 941-962-8294                                            Payment upon completion All Credit Cards, Personal Check, Cash.                               FLAT RATES all posted on my website www.vintagetaxiservice.com                                   5 STAR RATING ON GOGGLE….ANGIE'S LIST 2016 SUPER SERVICE AWARD