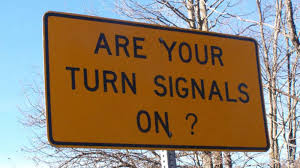 A recent survey found 57 percent of respondents don't use turn signals when changing lanes.
Section 316.155 of Florida Statutes sets forth the times when a turn signal is required. Any vehicle turning right or left or changing lanes, must use signal an intention to turn for at least 100 feet prior to turning or changing lanes. … The purpose of the turn signal is to let other drivers know you are about to turn.
Violation of a Florida traffic statute can result not only in a traffic violation and ticket; if the breaking of a statute is found to contribute to an accident, you could be found to be comparatively negligent for that accident and be held liable for your portion of fault.
I drive on average 5,000 miles a month taking customers to all the regional airports in Southwest Florida. Rarely is there a week that I don't see a accident that looks to be potentially fatal! Last week coming home from the Tampa Airport I counted  twenty-seven cars that failed to use their turn signals when changing lanes.
It is essential one is  DRIVING DEFENSIVELY!
At Vintage Taxi Service our motto is "SAFETY FIRST, On time Affordable Service"
People stop constantly looking for the best price around, shopping social media drivers and part timers. Consider using a professional who's experience will get you to your destination Safe!
I keep my prices extremely competitive. We haven't raised our prices in 5 years.           Yes, you can have professionalism at reasonable rates!