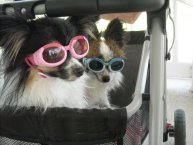 A lot of my customers that are coming into all the regional airports or Driving to Florida have their four legged family members with them.
The number one question is…… "Can I take my dog to the beach?
WELL…,……. YES IF YOU KNOW WHERE TO GO!
EXPLORING DOG PARKS IN SOUTHWEST FLORIDA
PARRISH

Dog Leg Canine Park, at Buffalo Creek, 7550 69th St.
A fenced-in, 3-acre off leash dog park with drinking fountains and separate area for small and fragile dogs.

PALMETTO

Emerson Point Park, at 5801 17th St. W.
A 365 acre preserve located at the mouth of the Manatee River and lower Tampa Bay. Bring doggie bags and drinking water as there are paved and shell walkways for leashed dogs.

BRADENTON

DeSoto National Memorial Park, 75th St NW.
Dogs are permitted within the park only when on a hand held leash. For all of our dog walkers and four legged friends make sure to come to our Dog Days at De Soto event held annually in April.

Robinson Preserve
Robinson Preserve is located in northwestern Bradenton, in the Palma Sola area, across the street from the Palma Sola Botanical Gardens. These natural lands are a great place to bring your four-legged friend! The Natural Resources Department welcomes dogs of all shapes and sizes but reminds owners that the preserves have special rules for pet pooches. Please be sure to follow the rules to ensure your trip is a safe and happy one!

Happy Tails Dog Park at Bray Park, 51st St & 30th Ave.
A three acre off-leash dog park with fenced play yards for large and small dogs.

Palma Sola Causeway Beach

Palma Sola Causeway Beach, Manatee Ave.
Enjoy sailing, wind surfing, jet skiing, fishing, and picnicking. Dogs are allowed to swim and frolic along the shoreline.

SARASOTA

A.B. Smith Park, 241 Oak St, Payne Park
Adjacent to the much larger Payne Park, A.B. Smith Park has a playground and plenty of benches
Arlington Park, 2650 Waldemere St.
This park features the only paw park on the list. Paw parks differ from dog parks in that your dog is free to run wild without being aggressive. The dogs are completely fenced in, so there are no leashes and no decorum – sniffing butts is fair game. All sizes can socialize and play. There is an additional fenced-in area especially for small breeds and plenty of room to run for those whippets and greyhounds.

Bird Key Park

, John Ringling Causeway
Three grassy acres with a paved walkway between John Ringling Causeway and Sarasota Bay.Bayfront Park, 2 Marina Plaza
A 32 acre park with walkways and shaded grassy areas along Sarasota Bay

Centennial Park & Boat Ramp, 1059 N Tamiami Trail
This urban park provides access to Sarasota Bay right downtown with plenty of grassy areas to walk your pooch.

Cohen Park, 1900 Myrtle St,

Gillespie Park, 710 N. Osprey Ave.

Indian Beach Park, South End of Bayshore Rd.
Take a walk with your four legged friend along the bay to a small sandy beach for a refreshing dip in Sarasota Bay.

Ken Thompson Park / City Island, 1700 Ken Thompson Pkwy.
Great park that not many people know about. No fences, but right on the water so it's not only fun for the dogs to play in, but it's a beautiful view as well. There are no fences at this park, but Doggy Poop Bag stations are available. There are also benches and BBQ pits if you'd like to have a picnic with your dog too. Go across the John Ringling Parkway bridge and turn onto Ken Thompson Parkway…the dog park area is located in the back as you go down the street- where it dead ends and circles back is where you can let them run.

Lakeview Paw Park, 7150 Lago St.
A 26-acre neighborhood park

Payne Park
A 29-acre multi-use park with the Fido-friendly feature of a tree-lined, triple-lane walking path surrounded by a huge field of grass. It's the perfect park for a game of fetch; and on occasion, the Sarasota Film Festival hosts a movie night. Break out the blankets and bones because the whole family is welcome to lounge on the lawn and take in a flick.

Sapphire Shores Sun Circle Park, Sun Cir. & Shore Dr.
Great for sunset walks along inlet waters of Sarasota Bay, this little neighborhood park is just south of the Ringling Museum.

17th Street Paw Park, 4510 17th St.
The area has covered picnic tables, a drinking fountain for dogs and waste disposal bags. For small dogs and their owners there is a separate fenced area with a covered picnic table and additional bench seating.

Red Bug Slough Preserve, 5200 Beneva Rd.
This 72-acre wildlife refuge is dog friendly, but dogs MUST BE leashed. An official with the Sarasota Sheriff's Office Animal Services Section says violaters will be given citations.
OSPREY
Oscar Scherer State Park, 1843 South Tamiami Trail
This nearly 144-acre state park allows leashed pets and offers 15 miles of trails, including Lester Finley Nature Trail. Offers trash cans, canoe rentals, children's playground, fishing, swimming, camping, picnic areas, and guided walks. There is a per-vehicle entry fee into the park. For directions, check the Web site above.
VENICE
Brohard Paw Park and Dog Beach, 1600 Harbor Drive S.
Fenced play yards and beach area for dogs with picnic tables, benches, showers and drinking fountains. Open daily, 7 a.m. – dusk.
Woodmere Paw Park, 3951 Woodmere Blvd.
A 38 acre park located near the Jacaranda Library.
Venetian Waterway Park, 200 Tamiami Trail N. Edgewater ParkAlong both sides of the inter-coastal waterway, this 10-mile pet friendly trail is shared with walkers, joggers and bikers.
Dog parks in Charlotte County
We are fortunate to have a few wonderful dog parks in Charlotte County; one in Punta Gorda, one in Port Charlotte, and one in Englewood. Exercise and socialize your pooch but be sure to follow the park rules. Your cooperation will allow all of our favorite four-legged friends to continue to enjoy a good run once in a while.
Hounds On Henry – Henry Street at Shreve, Punta Gorda.
Edgewater Dog Park – 22410 Glass Lane, Port Charlotte.
Oyster Creek Regional Park – 6781 San Casa, Englewood.
The Canine Club – Family Paw Park – 6700 Appomattox Blvd, North Port. (Sarasota Co.)