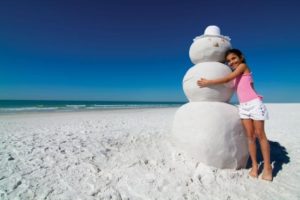 Manatee and Sarasota County beaches are constantly rated as the BEST BEACHES IN THE USA. That's one of the reasons folks vacation here! As a matter of fact last year 115 million people visited Florida. So we will explore ALL these #1 rated beaches in future additions of "Taxi Talk" as each islands beach has their own unique personality. 
However today let's talk about OUR SAND! 
WHITE SUGAR SAND
Most other beaches are made mostly of coral, but our sand is 99% quartz crushed into a pure white fine powder. Because quartz is a crystal it actually disperses the heat from the sun and leaves our beaches cool to the touch. Harvard University's geology department discovered that through millenniums, quartz from the southern Appalachian Mountains came down the rivers until it was eventually deposited into the Gulf of Mexico and then onto the west coast of Florida. No one can tell exactly how long this process takes, but because the grains of sand are so fine we know it to be eons in the making.